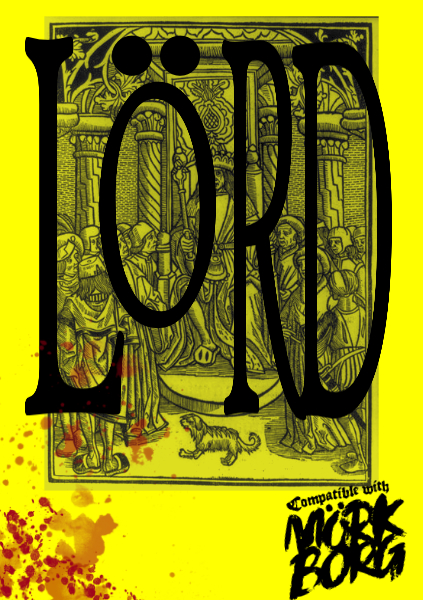 Lörd - a MÖRK BORG solo travesty
A stand-alone single player game that does not require MÖRK BORG to play.

What is Lörd?
Lörd is a solo roleplaying game set in the Mörk Borg universe. A thirty page cacophony of colour and art, it's a hack of Lineage where you will chart the lives of Lords and the morbid history of the land they rule.

Build the family tree of a fictional ruling family. Record the monstrosities they faced and the choices they made.
A journaling game with a difference, you will learn the complete history of a fictional fiefdom as you uncover the lives of its leaders.
How do I play?

Rolling 2 six-sided dice, you'll be provided with short descriptions of a Lord - how they are remembered, the heirs they left behind, the challenges they faced and how they died.
Using these as prompts, you will gradually build a complete history of this ruling family and the land they control.

What is Mörk Borg and why is it everywhere?

Mörk Borg is an roleplaying game set in a dying world. It's light on rules, incredibly dark in tone, and has a unique art style. Lörd does not require a copy of Mörk Borg to play. In fact, you don't need to know anything about Mörk Borg other than it's a place you wouldn't want to go on holiday.
If you do play Mörk Borg, Lörd can be used as a quest, location and character generator.

This sounds fun. Should I play it with small children?
No. Lörd contains adult language and themes not intended for children.

Lörd contains very dark themes, and encourages the player to come up with dark stories. If you think you could be negatively affected by these themes, Lörd isn't a game you should play.

Watch DeGustaf play Lörd on Twitch

Lörd is an independent production by Wash Your Hands Games and is not affiliated with Ockult Örtmästare Games or Stockholm Kartell. It is published under the MÖRK BORG Third Party License.

MÖRK BORG is copyright Ockult Örtmästare Games and Stockholm Kartell.

Lörd is not suitable for children. In the name of all that is holy, do not feed it to children.

Purchase
In order to download this game you must purchase it at or above the minimum price of $3.50 USD. You will get access to the following files:
Lörd spreads 1.1.pdf
17 MB
Lörd single pages 1.1.pdf
18 MB
Lord basic print version.pdf
855 kB
Exclusive content
Support this game at or above a special price point to receive something exclusive.
Community copies
Sick of greedy barons who control the wealth? If money is tight, please help yourself to a community copy.
Comments
Log in with itch.io to leave a comment.
Hello, would it be possible to let me have a Community copy of the game? I would be really appreciative.
Hello, would it be possible to let me have a Community copy of the game. I would be really appreciative.
Look interesting, I been wondering if it possible to get a print friendly version?
I was going to print my copy but with all the color and large amount of black, it will used up a lot of my ink.
Hello. I've added a basic print version, which is black & white with the images removed. (it was done on my lunchbreak, so let me know if I've messed anything up!)

Hi there. How many pages are in the game? I just purchased Lineage and would like to know how close the games are. Thank you.
Hello. Lord has 30 pages. It's quite close to "original" Lineage, which doesn't have the rise and fall mechanic of Lineage: Epoch Edition.


I've added some community copies, so feel free to try before you buy.

Wow! Thank you for your generosity. I appreciate it and will post a quick review for both games when I get the chance.
How does this differ from the main lineage product ? the original could already be used for morgkborg so I wonder what this adds/changes ? Would the original still be a good thing to have in addition or is for morkborg players this a superior experience in every facet ?
Hi Lukaboot. Lörd is Lineage with a more MorkBorgian flavour. The rules and gameplay are essentially the same, but Lörd roll tables have some different events, new characters, and there are additional tables of awful things that can happen. It's a great question, though - so I'm going to add some commuity copies.
help yourself to a free one and let folks know what you think.